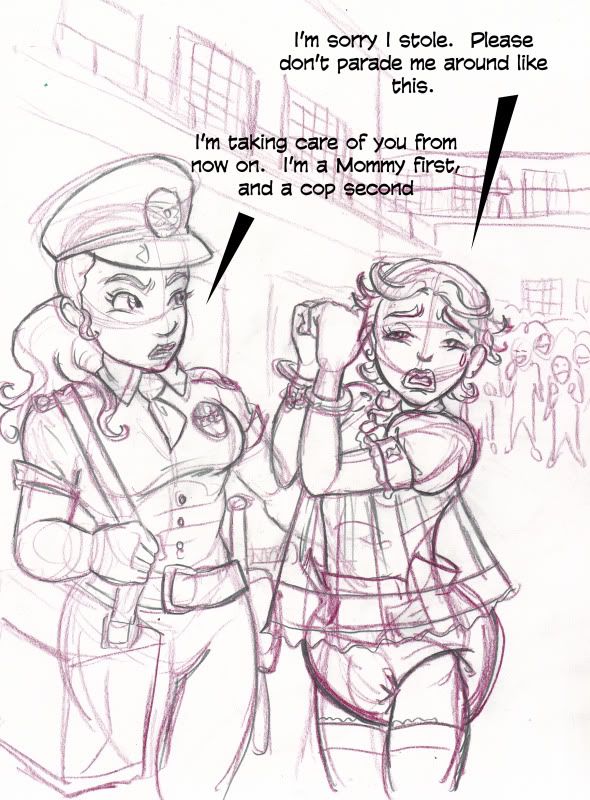 [[Note: a long time ago, I wrote this story on Sissyschool.com I had an audio made (two different Versions) and now thanks to Pink-Diapers, he made the sketching]]
A tall Mexican woman with jet black hair wrapped up in a nice ponytail, stood about 6'3. She was a cop, and a REAL hard-ass, she unloaded from her squad car a small skinny white male suspect that was probably about 5'3 110 lbs and into her house. She sat him down on a pink plastic barbie chair as she took off her sunglasses. "Now since this is your first offense, I'm going to cut you a deal. She said with a smile on her face. "I know a little man like you won't survive in prison, trust me. Even your tiny little dick that I managed to feel while frisking you barely defines you in male status, so let me give it to you straight. Instead of jail, this house will be your prison for the next 6 months, but you will be my little baby girl. That means instead of an orange jumpsuit and a number, you'll be wearing diapers and pretty satin dresses, all that stuff in your car will just be given back to the owner, like nothing was ever taken sweety, won't that be fun?" She said while running her well manicured hands through the suspect's long brown hair. He really didn't want to go to prison...but he really didn't have any other choice as he sighed and then nodded. "Oh-ta-lay!, now lets get the bath ready, Mi-Ha" she cooed while she plopped a pink dummy into his mouth and then pulling his blue jeans down as well as his sneakers and socks off his legs and then lead him to the bath tub while still in cuffs.
"This cream will help get rid f that disgusting man hair" she unveiled while rubbing it into his little penis, legs, and, ass. [in sing-song-tone] "Manly hair go bye byes, yes bye byez" she sang in a babyfied tune. "Time to rub in this baby oil to make your skin so baby smooth, my little princess!" *sniff sniff* "Mmm, even smell like a baby! So baby fresh, my little bambina" before tugging him out of the water and then applying a palm-full of Vaseline, "There will be no diaper rash in my house!" she barked in a strict stern and proud tone "This shall protect you from Diaper rash, every time you make an icky-poo in in your pampers. So no diapie-rash for you!" tugging his arm back on his feet and leading him into the nursery which consisted of Disney Princess posters, pink painted walls and a matching pink crib. She lay him down on a Princess Belle changing pad and then walked over to the dresser drawer picking up baby powder. "It's diaper time, bambina!"
Mommy said in an excited tone while approaching her new 'daughter' with baby powder in one hand and the smallest size of a plastic backing disposable bambino diaper in the other hand. *sniff siff* "Mmm, mommy loves the smell of a fresh diaper, because soon you'll be making mommy a present. She unfolded the diaper and placed it under his baby soft butt and then began to powder his whole diaper area and rub it in. "Lets get some ground rules straight ok, honey?... 1. only mommy touches your diapers, if I catch you trying to take it off, let alone even touch it then you will be spanked. 2. You will always have something in your mouth to suck on, the only time you won't is when mommy is spoon feeding you, and when you talk you are not to ever use grown up words, you are to use only 'goo-goo-ga-ga' talk. 3. When you make piddle pees or icky-poos in your diapers, you are to cry like a real baby or mommy won't change you. 4. Your new name will be...Camila, I think that name is perfect for you!" she said, pulling the diaper up between the legs and taping up the sides and then patted them.
"Time to pick out a new dress" pulling up the nylons and Mary Janes and un-cuffing the pathetic little sissy too frightened to try and escape. "Hmm, perfect! This light baby blue Cinderella dress with puffed sleeves, up with the arms through the sleeves, and now just buttoning up the back, magnifico! Perfect for my beautiful princess!" The hem of the satin dress only covered half of the diaper as officer mommy swatted his diapered bum. "and perfect for when mommy needs to change your diapers!" Mommy sat down 'Camila' infront of a vanity while brushing his long brown hair into long pigtails, he felt really babyish and belittled in diapers. "I'm going to curl your hair into the cutest style when I get a chance" She planned out loud while tying both ends of the pigtails with blue scrunchies. Now it's time for your baba, and then we go to the station where mommy works, OK bonita? she said while picking her new 'sissy-daughter' up and resting him on her hip, while lightly tapping the seat of the diaper that felt so snug on his bum and then carrying him out of the nursery. If you can't do the time, don't do the crime!