*curtseys* Welcome to the Sissy Kiss Feminization Guide! This is here to help you bring out the beautiful, sexy, dazzling and sweet girly girl you have always wanted to be! We will be adding to it as time goes by as well. This is a guide for people that want to be girly girls since this site is about people who love being femme, its not about saying every girl does or should fit into the stereotype of being femme because every girl expresses themselves in their own way and can't fit into stereotypes and thats a wonderful thing. Including anyone who loves being femme. This is for people whose individuality happens to want to be women that are very girly. Sweetie, you are going to be totally femmed up! This guide will let you know all the beauty secrets that professional beauticians know, to make you walk, talk, act and look like a sexy diva!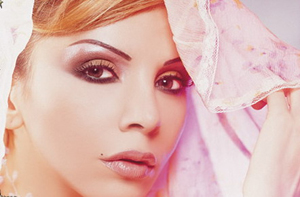 Thinking Fem
Firstly lets start with the most important thing of all, whats in the heart and mind, with it there is nothing in the universe can make you not feel girly without your consent. Let that pretty darling inside come out. Since most TGirls have been brought up as a boy and to "act" like a boy, as if there were such a thing, we could say what some people think acting like a boy is, that just means you need to think in the way you like to be girly even more. Wash away any of those boyish habits that you don't like from your mind, with the most beautiful girly things you can think of. We shouldn't express a gender identity because thats how you were raised, something should be expressed because thats what you truly are on the inside. Its better to be who you truly are on the inside because life is too short to spend it being someone we are not. We should be who makes us happy. Repeat to yourself "I'm a girly girl, I'm a girly girl" Feel her come out, her sweet way of thinking, just loving to embrace all things pretty and cute! Take it upon yourself to think this way from now on. Arrange any plans to always spend some time just getting in touch with your feminine side. Wearing your most beautiful things that make you feel pretty. This guide will help you with that.
Now the next step is to get the most feminine, lacy under pinnings you can find! Panties, bras, pantyhose, stockings, garters, slips, corsets and lingerie. They are the perfect things to make you feel feminine any time you want no matter what your wearing on top. Every fabulous outfit is not complete without fabulous under pinnings or they can be the fabulous outfit. Throw away any boxers or boys underwear you have. Its the biggest sign of commitment to yourself that you are going to be the girl you know you are on the inside and you are going to wear pretty girls under pinnings from now on sweetie and wear nothing but them when you go to bed at night. Here is some help with each of them:
Panties
Now is a wonderful time to be a girl because there are so many styles of panties, that we never have to fear getting bored with our underwear drawer again! You can find just about anything that tickles your fancy!
Tucking your sissy clitty in your panties to get a lovely V shape, Gaff Panties & Panty Hose.
The way to do it is a way TGirls have been doing for centuries. It sounds funny but its completely safe. In your lower abdominal just above your bits is where your testis came out as a baby and they can safely be put back in that area so you have less baggage down there to tuck. You can gently and slowly lift them up there with your fingers, it might feel funny at first like someone found your funny bone, but after a while you will be able to slide them up there without even thinking of it. Now after that you can pull the rest back, and under in between your legs. Then you can slide on some tight panties to keep them in place. Not so tight that they are bad for your skin. If the panties are not enough to get the V shape their are panties called gaffs. They are made especially for tucking your little sissy clitty back.
If a gaff is not enough (That happens with most of us girls) you can wear pantyhose on top of a gaff, or what's called "body shaping" hose. They both work amazing when they are used with the gaff. You can even add another gaff on top of the pantyhose if you really want to seal the deal. If you wear skinny jeans where the bottom leg trim is high, like with some cute heels or flats, you can cut the bottom of the pantyhose at the knee, so they will be nicely hidden at the bottom.
For this you would also want to avoid the "Ultra Sheer" pantyhose, which is any pantyhose where it is the most see through, because those are a lot more thin material, and so you want to look for the ones that are thicker and which will help give you a more smooth shape. The kind that is the thickest is usually called "Opaque Pantyhose" but many see through pantyhose are thick enough as well (sometimes called "Day Sheer" or "Spandex Sheer")
Tgirls want to have curvy hips, and for them not to be compressed, so you may also want to cut holes in the sides of the pantyhose where your hips are, or find pantyhose with holes in the sides.
Pantyhose just feels lovely, you'll feel very girly the whole time!
Tampons
To make you feel even more feminine you can wear tampons, pads and panty liners, even if you don't need them but you might in the way that they give you inner confidence because they make you feel even more in touch with your feminine side. They are comfy, they look very pretty on your panties and they make them smell girly. Its a fun way to make you feel very sissy!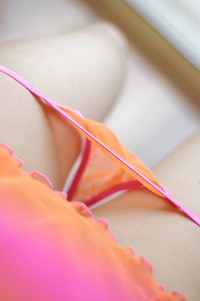 Pantyhose & Stockings
❤
Ultra sheer (less than 10 denier)
If you dare to be almost bare. They are very elegant. These are particularly sheer, and allow your skin tone to show through. These are very delicate so they need to be handled gently.
❤
Day Sheer (10 - 20 denier)
A bit less sheer for those of you on the fence between bare it sheer and modest sheer. These should be handled carefully as well, but are durable enough to be worn daily.
❤
Spandex Sheer (25 - 35 denier)
For the less daring, the mix of nylon and spandex still offers a silky, smooth feel. They are a bit more durable and also an option for daily wear.
❤
Opaques / Tights (40 denier plus)
For the less daring as well or people seeking warmth. These offer a complete coverage, additional warmth and in darker colors present a leaner look for the leg.
❤
Shimmer / Glimmer
For beautiful shimmery legs. They shimmer when they are hit by light. They are perfect for showing up the shape of the legs.
❤
Circulation Enhancing / Support Hose
A combination of nylon and yarn, that's slightly heavier. It lessens and supports the leg fatigue with a tender application of force to important parts on the leg. This pressure has a massaging effect that increases leg circulation.
❤
Cellulite Control Hose
These nifty hose contain micro beads used in the creams on the market, used for treatment of cellulite and the beads have a life of six washings.
❤
Control Top Pantyhose
For a shapely waist, these contain extra spandex and lycra that shape and lift the buttocks and flatten the stomach.
❤
Body Stockings
For that lean body line. These are full body stockings, similar to those worn by dancers, but made of lightweight material.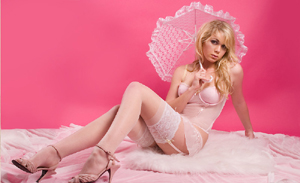 Tips:
❤ Avoid any excessive stretching as it can cause rips.
❤ Remember to take off jewelry when your about to handle hose.
❤ Its always good to keep an extra pair of pantyhose in your purse for emergencies.
❤ Remember when you wash them to read pantyhose makers guidelines.
❤ If you wear any sheerer lighter colors they can show off the shape of the legs.
❤ Check your hands, nails, and toenails for any roughness before handling the hose.
❤ Try to avoid, hairy legs visible through pantyhose, open toe shoes and pantyhose, runs with nail polish to stop them, too loose hose that sags around the knees and/or ankles.
Bras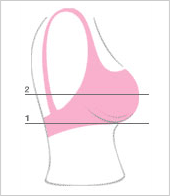 Whats Your Bra Size?
When figuring out your bust size, (1) first measure the torso under your arms just beneath your breasts. For odd numbers, add one inch. (2) Second, for cup size, measure your torso around the fullest part of your bust. The difference in inches between the two measurements will give you your cup size:
❤ A=1"
❤ B=2"
❤ C=3"
❤ D=4"
❤ E=5"
❤ F=6"
❤ G=7"
❤ H=8"
❤ I=9"
❤ J=10"
What bra types are there?
There are many kinds of bras:
❤
Padded
It lifts and supports the bust, creating a more noticeable look. It is ideal for smaller breasted women and it comes with removable Air Lift inserts.
❤
Strapless
This bra is perfect for strapless outfits where you wouldn't want the bra strap to show.
❤
Deep-V
It shapes and lifts the bust for a fuller look, revealing the top part of the breasts. Its ideal for smaller breasted women to create a sexy neckline by uplifting bust. The straps are usually set wider apart to make them excellent for wearing with low cut styles.
❤
Hidden Wire
If you want a seam free bra that is sleek and unnoticeable under your clothing.
❤
Under Wire
This bra lifts each breast and gives it definition, giving shape to smaller busts and offering great support to larger busts as well.
❤
Push-Up
This bra pushes the breasts up and together to have amazing cleavage. It repositions the bust for added size, a look that is achieved through removable inserts such as liquid and air bags or other cookies. Its ideal for low and plunging necklines and it maximizes cleavage.
❤
Molded / Seam Free
Seam free cups make the bra discreet under a tight fitting shirt, its very comfortable and it supports the breasts just as well.
If you need some padding to stuff in your bra some useful things are nylon clothing like stockings, panties or socks.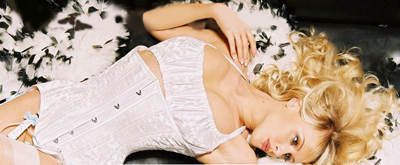 Corsets
Corsets will feminize the shape of the body dramatically, if your looking for permanent feminine curves, these can make them through good enough corset training. Using "boned" corsets, with hormones will increase the curves you get with hormones by at least twice as much! It is a garment that has bones, or ribs to tighten your body to have sensual curves. You can also wear corsets as just part of the outfit. Corsets are even now being made as outwear. If you wish to get a feminine figure with corsetry, you'll need to look up how to wear a corset, the right type of corset to get for body shaping, what to do when just starting out, and how to take care of the corset. This is because there are specific things you need to know to shape your body with corsets, and tips to help you out. These sites have amazing tips and info to help you out:
*Scarlett's Corsets*
*Romantasy*

Lingerie
Pick the style you like. Think about what you would like to wear. You can choose a lingerie that's sexy and tempting. Lacy lingerie will make you look lovely and alluring. You can even decorate around your lingerie. A sexy negligee, thrown on top of the lingerie with its soft folds falling around you will be a tempting sight. If your shy about showy lingerie, sexy lingerie does not necessarily mean that you have to show more skin. You can find a part of the body you think is the most feminine and emphasize it. Other things that will be attractive are the fabric, the design, and above all, the attitude. You can start with a lingerie website and check out the choices and the models to give you an idea of what you like and what you will not feel comfortable in.
❤
Camisole
A camisole is usually worn under girls clothing. It is kind of loose fitting and it has thin spaghetti straps. It usually has a matching bottom. You may also wear camisoles as outerwear.
❤
Baby Doll Set
Baby Dolls encompass a very large category of lingerie. It's a two piece set, with a robe or loose billowy top and a matching bottom. The top is loose fitting so its not usually for wearing under clothing and the loose fitting part comes in just below the bust line, like an empire waist, thats also why they call any waist line that high a baby doll hem. The top is very short, ending at or just below your bottom. Baby doll lingerie sets are available in wide variety of fabrics from satin and silk to sheer lace.
❤
Chemise
A short flowy A-line gown that's more long than a baby doll is a chemise. The top of it usually has halter of spaghetti straps. The chemise has an angular shape that looks good on almost any figure type. If you're concerning about your mid-section look for a style that has built in figure control. There are fabric choices that can range from patterned and solid silks to very revealing lace, so there is something for everyone's taste. Sometimes a chemise comes with a matching bottom, but this varies from style to style.

❤
Teddy
Teddies are essentially a camisole combined with a panty. Like many of girls swimsuits. It may be worn as an under garment and may also be worn in bed.
❤
Bustier
A bustier looks somewhat like a full breasted corset or a basque but a bustier has a different purpose. It's to push up the breasts by tightening the midriff. It can also just be worn as part of an outfit.
❤
Bridal Set
Bridal sets cover a wide variety of items. The styles may range from silk or satin sets with full coverage to skimpy string sets with very little coverage. Basically it is a set that consists of a bra, corset or camisole top. It also has matching panties, and usually with stockings and a garter belt.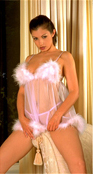 Everyone, even super models, have body differences. No matter what your body shape is there is a non TG girl out there with your body shape too. Everyone comes in all shapes and sizes. You just have to play up your assets.
If you like the look of your legs, make them your focal point by looking for a baby doll nightie with an empire waist. It will add support for your breasts while showing off your legs. To keep your upper arms under wraps, look for a sheer robe or wrap in a color that matches or accents the lingerie piece.
What you can look for in lingerie for your body shape: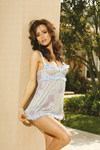 ❤
Straight Waist
Women who feel like their waists are too straight try out 2 piece outfits to break up their body. Camisoles and tap panty sets are perfect, they give separation between the bust and the hips, making the illusion of an hourglass figure.
❤
Saggy or Small Breasts
If you would like to boost up the breasts, under wire lingerie are in a variety of styles, including bustiers, baby dolls, gowns, and even camisole sets. Under wire is great for providing lift and creating cleavage.
❤
Belly Bulges
Women who are self-conscious about their tummies can try wearing silky polyester, which smooths out the body's lines while providing tummy coverage.
❤
Broad Shoulders or Heavy Arms
Spaghetti straps with emphasize heavy arms and broad shoulders, so women who want to disguise this area can wear lingerie with a wider sleeve or straps instead. Many chemises and gowns come with wide straps or sleeves, they are available in both long and short styles.
❤
Chubby or short Legs
To lengthen and slim legs by wearing darker colored pantyhose and a bedroom slipper with a high heel or any high heels. Try avoiding pantyhose in bright colors, as this will add focus to the legs. Also, women with short or chubby legs should wear shorter lingerie, like bustiers and teddies with high cut legs; the more leg that is shown, the longer the legs will appear.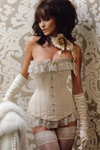 ❤
Heavy Bottom
Trying to disguise the derriere? Bustiers and babydolls often come with a bikini panty, which will provide great coverage. Panties with lower hems making a v more horizontally than vertically round out lower bottoms to make them look less heavy, like booty shorts and bloomers. Tap pants, which have wider legs and provide the most coverage, will also minimize the backside.
Shopping online and shopping in the stores can each have their own perks!
❤ Online there is a lot more variety, your most likely to find just the thing you need because the world is your mall and there is ofcoarse shopping in your underwear.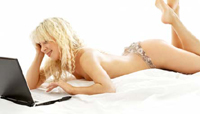 ❤ In the stores you don't have to wait 2 weeks for it to arrive. Plus theres always getting to be surrounded in all this beautiful clothing and you can have some fun trying on things!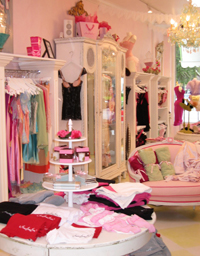 Accessories
These are fabulous for any body shape, since they draw attention to themselves. Marabou wrist cuffs are very popular, as are chokers with a wide ribbon. Women can also use feather products, like boas and fans.
You do not have to sleep with someone to dress in lingerie. It can be about wearing it for yourself because it makes you feel sexy and feminine.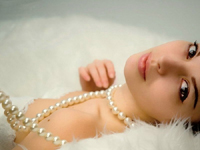 Cleaning Your Delicates
Since now you have pretty delicates they need to be washed in the gentlest way because they are made of very fragile fabrics. You can wash them by hand or on the "cold water - delicates" cycle in your washer. Then you can wring them dry gently, and let them air dry, preferably on a line outdoors in the sunshine so everyone can see your lovely lacies! Spraying them with perfume afterwards or getting a beautiful scented fabric softener can make them feel even more deliciously feminine!