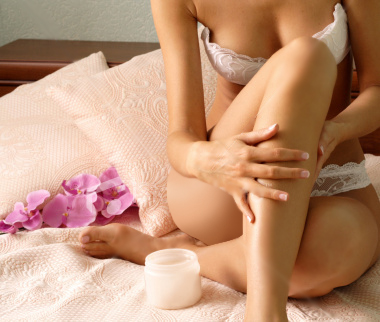 Hair removal
On we go to the next step in making you a lovely diva! Its to know the joy of having silky smooth, luxurious and sexy skin with the many ways to remove your hair! The skin has such a wonderfully different feeling after removing the hair, it feel so much smoother against your clothing which is a lovely girly sensation! Your body will be so pretty especially with pantyhose covering those smooth legs!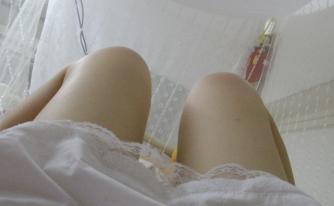 Here are the known ways to remove your hair:
❤
Shaving
~ The simplest and most commonly used way to remove hair, but it lasts the shortest time because hair is cut at skin level only and the hair reappears in about one to four days. Also shaving actually will stimulate the hair follicle, that speeds up the regrowth process and causes hair to grow not only faster, but also thicker and coarser than before.
To start shaving, let your hair hydrate before, like you can let your legs soak in a warm bath for 15 minutes and use a shaving gel or a lotion help keep the hair erect and it reduce friction so the blade can glide easily and very smoothly over the skin.
To have the cleanest shave, always shave with the flow of the hair and then against it.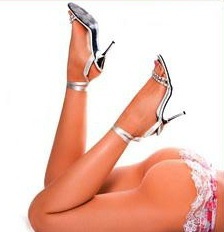 Using a moisturizer on your skin after shaving can help soothe and calm the skin. Wait about half an hour before using deodorant after shaving the underarms.
If you have sensitive skin and notice break outs after shaving like bumps or redness here are some tips that can help. Beforehand unclog those pores with a cleanser so they will be less irratable. Use a pre-shaving lotion, there are a lot out there for sensitive skin. Make sure the razor is new and is a good one, like the ones with three or four razors, I've even used the one that vibrates and it seems to help. The less strokes you have to do over the hair the better. In this case its best to just shave with the flow of the hair. Afterwards use a good astringent and if its in a moisture area like the under arm or the bikini area you can wait 15 minutes than use baby powder. Its stops the skin from having the excess moisture that helps irratate the pores.
❤
Hair Removal Creams
~ You can simply spread cream on your skin, wait, and then wash it off, and the hair will be gone. They give you smooth legs for about a week, which is longer than shaving, and the hairs sometimes grow back thinner. Sally Hansen, Nair, and Veet all make good hair removal creams. They tend to have a strong scent lol. If it's too much for you Sally Hansen makes a scentless one.
❤
Epilation
~ These are handheld automatic hair tweezers that tweeze a lot of hairs very fast. It's not as painful as you'd probably think, but it does feel like you've been pinch a lot up, and down your leg lol. The things us girls do for beauty. However it's cheap because you only buy it once, and you can keep using it. Your legs are smooth for around 3 weeks, and hairs grow back thinner. When you are epilating for the first time or if you have not epilated for a longer period of time, it is a good to pre-cut longer hairs first if they are very long. Ideally the length of hair for epilating is between 2 to 5 mm. Be sure that your skin is dry and free from any creams or grease.
❤
Waxing
~ While waxing, cold or warm wax is applied to the skin which encases each hair. Then the wax is stripped off to remove the hairs from below the skin. Hairs can stay away for six to eight weeks.
You can wax easily at home. Just remember to make sure your hair is about one-quarter inch long for the wax to grip it.
Be careful when heating the wax so you don't overheat and burn the skin when applying. Try it on a small area first. Use cold wax if your skin is sensitive, don't use hot wax.
Rub in the direction of the hair growth when applying the strip over the wax.
Rapidly pull it back while it is close to the skin. Pulling it up or out will increase the pain and leave patchy areas.
Relax while waxing. When being tense, the follicle will close so the wax will not reach the root of the hair.

❤
Hair Inhibitor
~ Hair growth inhibitors are a new development in hair removal that actually slow the regrowth of body hair. Applied immediately after hair removal, the inhibitor saturates the exposed base of the hair follicle and begins the process of slowing down hair growth.
Hair growth gradually slow down, usually is noticed after about one month. Continued use is necessary for preventing the hair from growing back.
❤
Electrolysis
~ The only method clinically proven to be permanent for a life time. Wouldn't it be great to get it all over with at once? There are at home kits but its best when done by a professional, at home if done incorrectly you could permanently damage your skin and the at home method hasn't been proven to be permanent for a life time. A professional electrolysis can reduce or increase the electric current, depending on which skin type you have, your pain threshold, and see whether or not your skin scabs or discolors easily.
❤
Laser Hair Removal
~ Laser treatments are less painful than the electrolysis and they are less expensive and less painful but currently there is no guarantee that laser hair removal is completely permanent. However a good one usually does last for years after multiple visits and some hairs don't grow back while others grow in lighter with each process. It works best with the more light your skin is and the more dark colored your hair is.