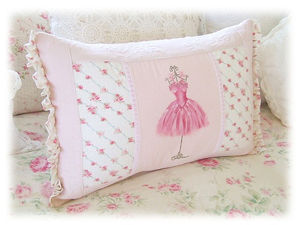 Now that you look as pretty and lovely as can be don't you want your home to make you feel more feminine? Imagine walking in your bedroom, seeing a girly girls room and feel wonderful knowing it your bedroom! This will give you some tips and ideas to help you make it more girly and pretty.
Look around your room and think what could you do with your room. Start with a pastel pallette as your wall color, such as pink, baby blue or light lavender. They give a beautiful bright back drop and make the things in your room really pop. Then go ahead and add some things with color. Like flowers, ballerinas or anything pretty and sweet that you like. Small area rugs and throw blankets, pillows and table linens are great candidates for punches of color. If your favorite color changes with the seasons, these items are easy to trade in and out. Beautiful curtains with lace and bows dramatically feminize a room or those pretty clear draperies that can cascade over your bed. Placement may be the hardest part of home decorating. Think about function when you place your furniture. Make conversation groupings. Do not line your pieces up against your walls. Place your furniture so traffic can flow around not through these groupings. Also, furniture does not need to be squared up with the room. Putting furniture on the diagonal is often more interesting. This goes for throw rugs, too. Try angling a rug under the foot of your bed or under a chair. Don't be too matchy-matchy, do be eclectic. An overly coordinated room lacks personality and interest. Your girly self has an individuality all in her own so let that shine through in your decor.
Here is what Baby Wendy Marie says about her decor to help give you some ideas:
............................................
I like to keep the bathroom as femme as I can by using almost exclusively pink towels and wash clothes. I also keep my toilet paper roll tied with a pink ribbon, tied in a bow. (I never used toilet paper, as I try to remain as femmy clean as I can by washing with a wet pink washcloth). One other thing that's fun is to use some diaper fresh scent (available on line) and use about a half-dozen drops on the towel I'm using for after showers. Most people keep their main shower towel for a bout a week before they wash it, and it's awfully nice having a baby fresh towel to dry off with..... ****giggles****
And one final thing in the bathroom that i do is to keep a separate special pail for panty washing. Anything i want washed in Dreft goes in the panty pail. But mostly it's just panties most of the time. I have a separate, much larger pail for diapers.
And speaking of the shower, I have my Lady Venus razor stuck to the shower wall for easy, quick access. I do a lot of my shaving in the shower so it's nice to have it in there, just a reach away, and out of the way.
The one other thing I'll add is that I have a whole bunch of pink hangers. I love to hang my delicates on pink hangers. And for things like nighties and baby dolls, I like to use the fancy puffy hangers that are kind of stuffed, wrapped with something satiny and lots of times have big bows on them. I just love to put my pretty things away when I use these hangers...
............................................