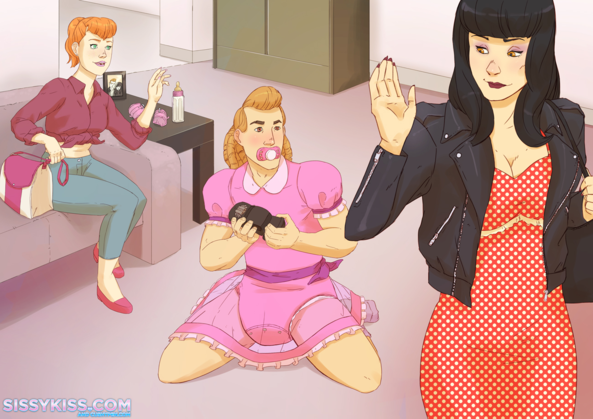 You can click the image to see the full size
 I first met Nancy 3 years back now ....we started out chatting on line....and after a while we set up a Deal between us so our Exotic natures can explore possibilities.
 so one day we agreed to pay a fee for mommy Nancy to accommodate for me as her baby girl....

 so I'm like I work a lot of hours , I have no girl friend....and its screen fun....so we talk about me being in diapers and dresses and such then I remind mommy about the payment....She's like "baby girl I got that covered" so I took it for that's a loss then fuck.....

A few months later a....all that was a course from October to January by February Nancy moved around me by lets say 8 miles from where I live....so  She says over the Computer ...."Baby girl" go to this address....and so I go....and there's this house...and I knock on the door...and I hear...!SHE'S HERE! MY BABY GIRL IS HOME!....I just got done sparking up a blunt on the way to her house....I'd have to be high to go thru with this...lol
 so we talk and she and her friend Ashly come out and say " Baby girl you're staying here now...and they changed me in to a baby girl dress and I went along with it thinking this is cool 2 girls and me....and Mommy says I now own you....and you will be my baby girl....I tried to leave....mommy says you're my property and I never give up property and now I'm going on 4 months of no escape baby girl diapers 24/7 life....I thought 1 weekend...y not...