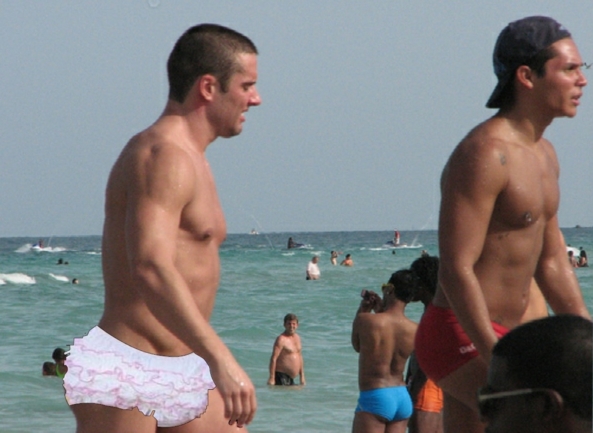 You can click the image to see the full size
Mischievous Aliens
Part 1
Two guys walk along the beach of California, they are the best of friends.
Part 2
A UFO suddenly appear right above Darren Slater, who is unaware that it is there, as it hangs silently above him and then suddenly a pink beam comes down from it, completely surrounding him.
Part 3
Darren's red swimming trunks have been changed into a pair of baby girls frilly plastic panties, only somehow in his size, they have frills that go all the way round from the front and the back, as the UFO's suddenly disappear, as they had mysteriously appeared, everyone's attention is suddenly drawn to Darren, they all burst out laughing, Darren walks along until he reaches a shop just across from the main beach, he looks into the shop window and gets a shock when he sees what he is wearing in the reflection of the shop window.