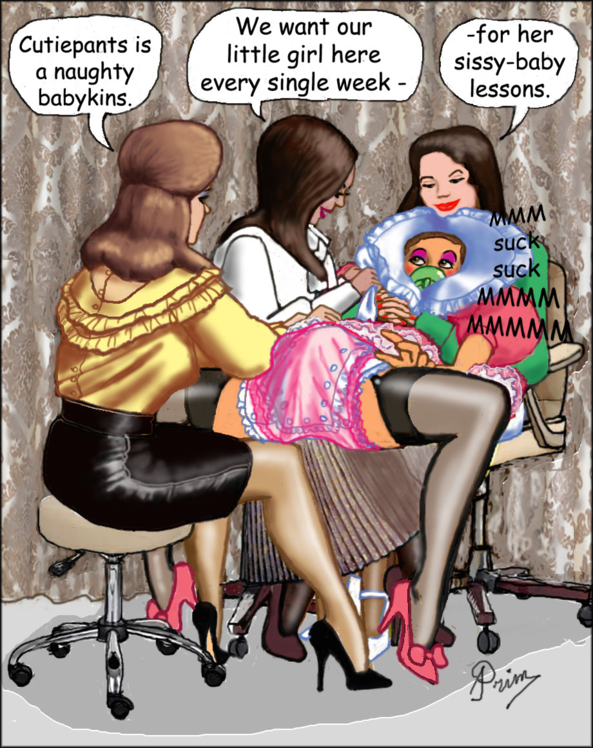 You can click the image to see the full size
Maternity Blouse – Part 2           by Prim
 "Hello, Maternity Blouse. Amanda speaking."
"Oh, M-M-Mistress Amanda! It's Cutie – I mean, it's-S-S-Seth Bridge."
"Hmm." He held his phone tightly to his ear. He could hear blouse satin moving and  - ohhhh, he could hear Mistress Amanda's breathing as she kept him waiting. "No, you are not Cutiepanties until you are here with the Blouse Ladies, isn't that right?"
"Yes, Mistress Amanda, I made a slip of the tongue. I'm sorry."
He listened through another pause, before she asked: "Are you wearing your diaper and plastic baby pants to call the Ladies at Maternity Blouse?"
Seth wilted as he looked down at his plastic pants, sweetly overlaid with a pair of glossy wide-leg panties in white satin. "Y-Yes, Mistress Amanda, I'm in my bathroom at home." He listened again, for so long that he thought he had better start making his excuses. "M-Mistress Amanda, I didn't come to babying class last Saturday because I had to f-f-finish off a b-business project. I just had – "
"You weren't here on Saturday the 14th either." She could make her velvet voice sound sharp when she was displeased.
"Er n-no, I was – on a business trip to London, at a very important confer – "
"I see. You had better come tomorrow, at three."
"Yes Mistr – " CLICK – "ress Am-anda." Her breathing and her satin blouse had gone and Seth Bridge was left with an ache of desire inside his diaper: a small but very stiff member, longing to meet the Blouse Ladies and face his punishments.
The following afternoon he hurried along Mayfair Lane with a thumping heart, drawing nearer to the moment he would face his Mistresses. He had been naughty so they would be right in doing humiliating things to him – babying things – shameful but so lovely in a perverse way. As he reached the steps his neck and his ears flushed with shame. That naughty boy feeling he was so familiar with flooded over him and tightened his stomach as he stood at the polished black door. He knew he had to ring the bell, so he did.
Mistress Amanda opened the door, with Mistress Crystal standing on the other side: a soft yellow blouse, and a crisp blouse of apple green silk, while a few steps back in the middle of the entrance hall, Mistress Jesamine stood waiting for him. Already he could pick out their perfumes as if the intensity of their eyes on him were surrounding him with their powerful femininity. Seth Bridge didn't tell his legs to walk, he just found himself getting nearer and nearer to Mistress Jesamine's white silk blouse with its fussy jabot on her breast and her long, sunray pleated skirt.
The pinch of her narrow lips beneath her sharp nose told him how naughty he had been. Her blouse sleeves lifted to his neck and parted his jacket, so that her bloused breasts seemed to jump at him as she pulled it down his arms. "So you have come to confess?" she said as her partners took over his jacket, releasing her fingers so that they could pull his polo shirt from the waist of his pants. Her fingers undid the button at his throat.
"Y-Yes, Mistress Jesamine. I've been-n-n-naughty. I sh-sh-should have come for babying before now."
"Cutiepanties has missed two weeks of babying," said Mistress Crystal at his ear, "and I am not amused." She pulled his polo shirt and vest up, off his head and arms in one sweep. "This baby is in my very bad books," went on Miss Jesamine as she pulled him to attention by the front of his trousers. "Naughty babies must be punished across our laps." Her voice hissed with annoyance.
"And must be forcibly turned into the big girly babies they are," continued Mistress Amanda, pulling his trousers down to reveal his primrose yellow plastic panties over his Huggy diaper.
Mistress Crystal dropped all his clothes into a big lavender Maternity Blouse bag. "I get cross," she said, "if I don't get the chance to babify one of our big babies."
"And I get cross," said Mistress Amanda, "if I am kept waiting," as she took down his plastic pants.
"I am annoyed each time Cutiepants isn't dressed in baby frillies," said Mistress Jesamine as she undid his diaper. As soon as Seth Bridge was stark naked, Mistress Jesamine held his naked body into her blouse while Mistress Crystal surrounded him in her blouse from the back so that her hands could slip down his belly to find his cock and clench her fingers round it. He was held up for Mistress Amanda to pull off his shoes and socks, then with each of his hands held at his sides, the naughty baby was led stark naked along the hall and into the petticoat dressing-nursery. He adored the green silk blouse Mistress Amanda was wearing as she stood at the closet and opened both doors wide so that the long row of baby petticoats swelled into the air and seemed to float towards him. She turned towards him, accusingly.
"Well, Cutiepants, what must Ladies do to a baby girl who doesn't come for her babying classes?"
Seth swallowed hard. "They must dress her in pretty frills and lace, l-l-like a baby girl, M-Mistress Amanda."
"That's right," said Mistress Jesamine, turning him towards herself. "You can start by sucking my finger." She spread her arm round his head and put her index finger into her own mouth, wetting it thoroughly, then presented it to his lips. "Suck deep, Cutiepants," she cooed, "and suck hard," and she pumped her finger in and out inside his mouth while she stroked his cheeks.
There was a slither of satin as Mistress Crystal slid his dress out of the closet and hung it ready on one of the open doors, gleaming in salmon pink. Then the blouse ladies placed their chairs in a circle and sat him down on Mistress Crystal's white mini skirt to dress him.
Mistress Amanda opened a wide, deeply padded diaper under his bottom, and took the opportunity to deliver two smacks to the backs of his thighs. "Cutiepants is a naughty babykins," she said, and wrapped the diaper up over his stiffened little member before folding both sides over and pressing him shut into all his tabs. Mistress Jesamine's finger pushed in and out more forcefully so that he remembered to suck her really hard.
"We want our sissy baby here every single week for his sissy-baby lessons," said Mistress Amanda, pulling his rubberized pants under his diaper and started to fasten him up in them. "Naughty babies get pinched – and pinched – and pinched," she said, squeezing pinches of his soft skin so that Seth warbled with pain into Mistress Jesamine's finger. The pants popped shut all down each hip and across between his legs.
"And there will be no excuses," cried Mistress Jesamine, pulling out her finger so that she too could smack his thigh as his pink chiffon baby panties were being pulled up his legs. They spread widely over his rubber baby pants and were perfumed with little girls' eau de cologne. Mistress Crystal lifted him so that his pantied bottom slid into her lap and she had him sitting with his back to her.
Seth quivered with girlishness as Mistress Amanda opened his first petticoat of white silk chiffon for him to put his arms through. The ladies gathered all his baby clothes in their laps while Mistress Crystal fastened his petticoat down the back. It was followed by a second petticoat, not quite as sheer but spreading widely from a high yoke at his shoulder blades, while his third petticoat was wider still, in white nylon, with a skirt of frills edged with lace all round the bottom.
Before they put him into his dress, Mistress Crystal had his bottle in her hands. "Ohhhh, no-o-o-oooo!" he bleated, seeing the teat approaching his lips. A tut from her parted lips made him open, and it was in his mouth. "Suck!" he heard from above his head. It was the drink he knew so well, the bitter-sweet Baby-cum-pee-juice, prepared by the ladies from between their legs and so successful in warming all his desires to be babied by them. She held him with his cheek buried between her green bloused breasts and tipped the bottle steeply so that he drank fast. He managed to stop and swallow for a moment, and listened to her heart-beats as he watched his dress being brought near and his bonnet being opened.
As the bottle drained, Mistress Amanda held the dress open for his hands to go through the enormous puffed sleeves, and the whole dress surrounded his petticoats, drawing them in, so that his dress buttons could be fastened down his back. "Now that's more like it," said Mistress Crystal, pulling his sash into a big bow. "Baby Cutiepants is a much nicer baby in her pink satin dress, especially with her face inside a sweet bonnet."
"But for naughty little girl babies," said Mistress Jesamine, spreading he bonnet round the back of his hair and pulling its wings right forward so that his face disappeared into its white satin lining, "it has to be a very big bonnet." She fastened the satin streamers at the side of his cheek and the ladies had their babykins just where they wanted him.
So Baby Cutiepants began his babying on the lap of the Blouse Ladies. They tickled him a lot, above his stockings and under his petticoats, so that he writhed and wriggled helplessly. They took off his pink chiffon panties so that they could change his rubber pants, and put him into pink plastic panties, with a lovely pair of baby girl shiny cotton panties over them, covered in stars of all colours. They sat him up and fluffed out his petticoats and his dress at least a dozen times, and they opened his bonnet wide to plant long, lipstick kisses on his baby girl blushing cheeks.
"So what does Cutiekins like to see all around him when he visits Maternity Blouse?" asked Mistress Jesamine as they were finally undressing him ready to send him home.
"Oh Mistress Jesamine, I – I like ladies in blouses – all round me."
"Our little Cutiekins is such a sweetie when she is being good like this," cooed, Mistress Amanda, adjusting his jacket for him in the entrance hall, and all three ladies blouse-smothered him, his face disappearing for fully five minutes as their blouse-bosoms closed him in between them. Normally Seth would have loved this, except that today he desperately wanted a wee, while feeling so like a little baby girl that his rock hard cock didn't know whether it was going to wee or going to squirt.
"Ohhh, g-g-good-bye, M-Mistresses," he said, somehow managing to walk down the steps with aching stiffness inside his now diaper-less rubber panties.
Seth walked with his knees together along Mayfair Lane, feeling ashamed but so thrilled and looking forward to next Saturday, but he had to pause near the end of the road and lean with his face into a stone corner as his orgasm in his rubber knickers reached its point of no return.
***
See hundreds of Prim stories and pictures at www.primspetticoatwendyhouse.com