PG 13
Issue 17 of Little Girl Lifestyle Magazine
sissy pansy graces the cover of issue 17, that is a special Humiliation Issue. The girls explain why the Crave and Need to be Humiliated for being a little girl, (some permanently, some against thier will, but all with same Needs
Posted on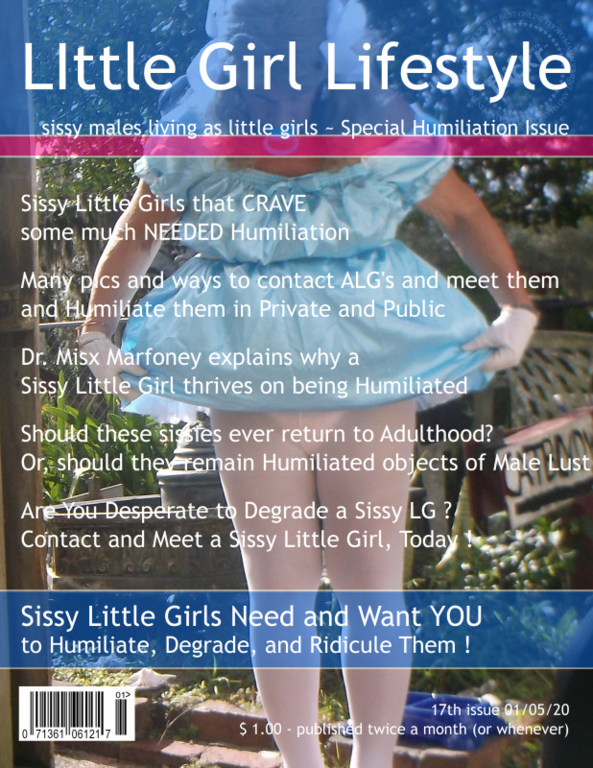 You can click the image to see the full size
 Here is the Upcoming Issue of the now World Famous Magazine
Gallery Images by babygirlpansy
Last Post
6,792 views
5 posts
42992
image_gallery
12
59291
outside
_original_post_reply
Great! Always so much to see. I would even love the ads. Lol, can just imagine the advertising. 😄 
62056
image_gallery
42992
12
Baby Puss
62056
283331
◆
else.....eventually this sissy is going to get around to making a page by page issue...…. i also have several stories written, however, in my opinion, they are just too long to post. this sissy was thinking of publishing them for kindle sales on Amazon 
  and everyone
permanently a sissybaby 
59291
image_gallery
42992
12
babygirlpansy
59291
283333
Only a dollar, what a bargain! Although I have been getting Baby Girl Pansy pictures for free on Sissy Kiss. Nice to see you made another cover.
22829
image_gallery
42992
12
Baby Butch
22829
283343
◆
  yes, baby butch, only a dollar, the publishers intentionally keep the price low, so that sissies and adult babies have more money for pacifiers, bottles, diapers, and pretty outfits
permanently a sissybaby 
59291
image_gallery
42992
12
babygirlpansy
59291
283352
Delete this post
Can you say the reason why you are deleting? Only the moderators will be able to see the reason you give.
0