PG
I THINK I'M IN THE LEAD
Some of my baby reins/harnesses, and leashes. I made the two blue sets myself. (Self inflicted restraint)
Posted on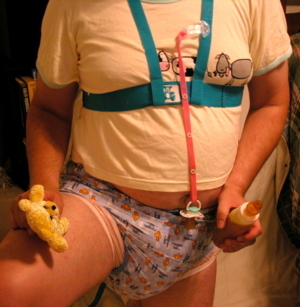 You can click the image to see the full size
 What does mommy do if, you're a runner?
Gallery Images by Baby Puss
Last Post
7,066 views
4 posts
35948
image_gallery
12
62056
outside
_original_post_reply
Just watch out when he gets to the end
of his rope (leash) and the rip cord in
his diaper unleashes a new surprise !
With that thick diaper package he has
to be hiding some kind of personal
restraint - hint it just maybe a CB !

Oh we did not see the back side of
his reined in outfit - wonder if it has some
elastic qualities to keep bringing him
back to square one time and time again.

I can only think of one thing better than
reins and that is the bouncing baby
chair. Seated in a chair with feet about
an inch or two off the floor and elastic
bands holding the chair to a vertical
support. Now give baby a firm shove
to start the show - bestest if a dildo
or aneros device is plugged in.

WHEEE - look at baby goooo !
16555
image_gallery
35948
12
sissywanabe2
16555
252870
◆
  You know so much, about bringing up baby.  :)  And the "enhanced" baby bouncer, such a wonderful idea. Would it be a treat, or punishment, I wonder?
Kisses
There's no kisses for this post yet.
62056
image_gallery
35948
12
Baby Puss
62056
252892
Good job they look like deluxe baby harnesses. Can't go running off, he he. 
22829
image_gallery
35948
12
Baby Butch
22829
252883
Delete this post
Can you say the reason why you are deleting? Only the moderators will be able to see the reason you give.
0