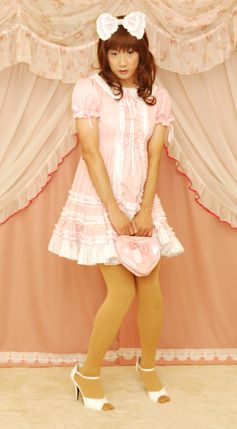 "Mary I know I said I'd take any job you could get me, but a male maid at a cafe?"

"Now Hikaru don't blame me! You are the one who refused to get a hair cut and lazed around the apartment wearing my pj's because you're too lazy to do the laundry. Now I had to pull a few strings to get you this job and you are going! Besides you are already dressed, and i must say you look gorgeous! Frankly I may keep you dolled up all the time!"

"But I am your boyfriend!"

"Sweetie as of today you are my girlfriend, now I will drop you off then after your shift we two will go shopping, then Missy you're gonna give me a fashion show!"

"Fashion show?"

"Yes darling, you are going to model all of the pretty outfits and nighties I am going to buy for you today, it will be a special night for us. Now get your coat Missy it's time for work."