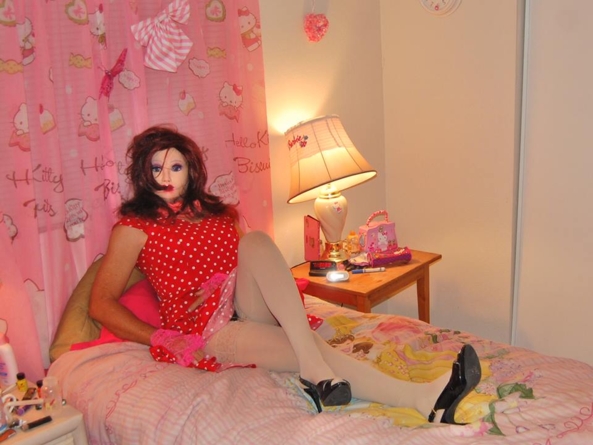 You can click the image to see the full size
Classic fashion Dollie
Source: Dollies sissy baby nursery
Gallery Images by dolliesissy
Last Post
9,910 views
3 posts
32980
image_gallery
12
57768
outside
_original_post_reply
Hiya Dollie! my oh my - you're not only a cutie but a very sexy girl too - just love your dress and heels sweetie. I hope Mistress didn't catch you flashing your panties at all us sissies! (*giggles*)
   I've just adored all your recent posts Dollie, they are as wonderful as always. Your attention to detail is incredible and to see more of your wardrobe is a lovely thing to behold. Looking forward to what you share with us next.
     Big hugs!

   MU-WAH!!! luv and hugs from Kay Kandyfloss   xxx
55093
image_gallery
32980
12
kay3070
55093
238805
◆


We know when the rubber hits the road, or in this case the rubber is cleaned after use by the sissy, many "chicken out" on their girly visits. I guess thats where the sissy is seperated from the sassy! ..........
  aww shucks Kay kay you are very nice. I do have lots of projects I been working on, a slide show, a few videos, and an appointment setter post where I will make calls to beauty shops, hormone doctors or other services for feminizations for the sissy who needs motivation or is to shy to call them selves. The only obligation would be to actually make their appointment visits.
 Dollie Sissy..... M.M.PRODUCTIONS
57768
image_gallery
32980
12
dolliesissy
57768
238816
◆
Hiya Dollie! Very pleased to hear that you have so much for us to look forward to - already enjoying your latest pin up girl slide show, thank you for sharing it so quickly. :-)


   I do like the idea behind the setter post you mention - I think that could really work as many sissies would love to go further with their feminisation but just lack that confidence to make the call. As you say, whether they keep their appointments or not is their own choice, only time will tell. It's a lovely thought for the shy sissies tho and just shows how much you care for others.
  btw - I'm sure you've already noticed that I'm not one of the shy ones (hee hee!)
  Wishing you a wonderful day sweetie.
      Big hugs.

   MU-WAH!!! luv and hugs from Kay Kandyfloss   xxx
Kisses
There's no kisses for this post yet.
55093
image_gallery
32980
12
kay3070
55093
238844
Delete this post
Can you say the reason why you are deleting? Only the moderators will be able to see the reason you give.
0