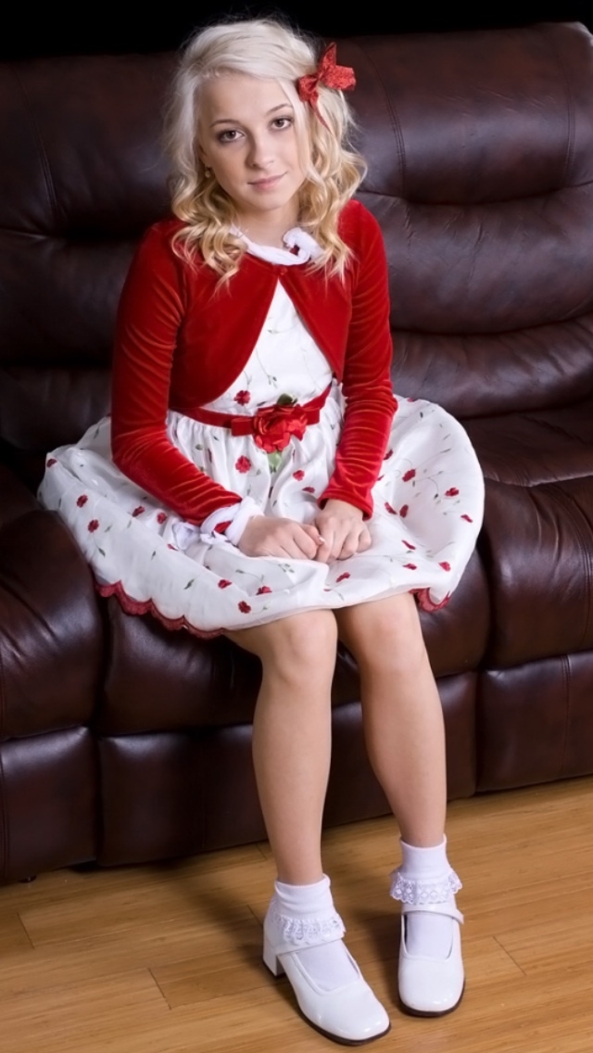 You can click the image to see the full size
"Terry?" Father asked as he walked into the den. "What are you doing in my den and why are you dressed as a little girl?"
   "Dad.....I....I...." Terry's voice faded as his Mother came in from her sewing room.
   "Doesn't she look pretty Ted?"
   "She?" Father's face creased into a frown. "Laura what the hell is this?"
   "This is the result of our boy raiding my pantie drawer and wetting the bed! I am tired of it and I am tired of his sullen behavior. So this morning I put him in a diaper and a dress and I plan to keep him like this!" Laura crossed her arms and stared at them both. "And I am NOT talking no for an answer."
   "For how long?" Ted asked eyeing his blushing boy with raised eyebrows.
   "Indefinitely, frankly I think Terri wants to be a little girl, so I am going to home school him and raise him as a girl!"
   "Mom!" Terry stood up and looked very worried, father moved over to him and gave him a hug.
   "Sshh baby, it's alright." Father picked Terri up in his arms and gave Terri's diaper a gentle pat. "My what pretty panties Daddy's girl has on!" Ted said as he sat down with his new baby girl on his lap, Terri's skirt was up exposing his ruffled baby panties, they were white with frothy red lace to match his pretty dress. Red face Terri started to cry and Ted cradled him in his arms gently rocking back and forth looking up at his wife.
   "This is for the best Ted, I've done my homework." She sat down next to them and handed Ted a pink soother which he gently teased into Terri's mouth. Terri began to suckle and snuggle into her Daddy. Ted and Laura exchanged a look and smiled.
   "It's going to be so much better for all of us having a pretty toddler princess in the house." Laura said with glee, eyeing her sissy son with loving eyes.
   Terri looked up at them and Ted kissed her on the forehead, "Daddy's girl." He whispered to his new baby and smiled.