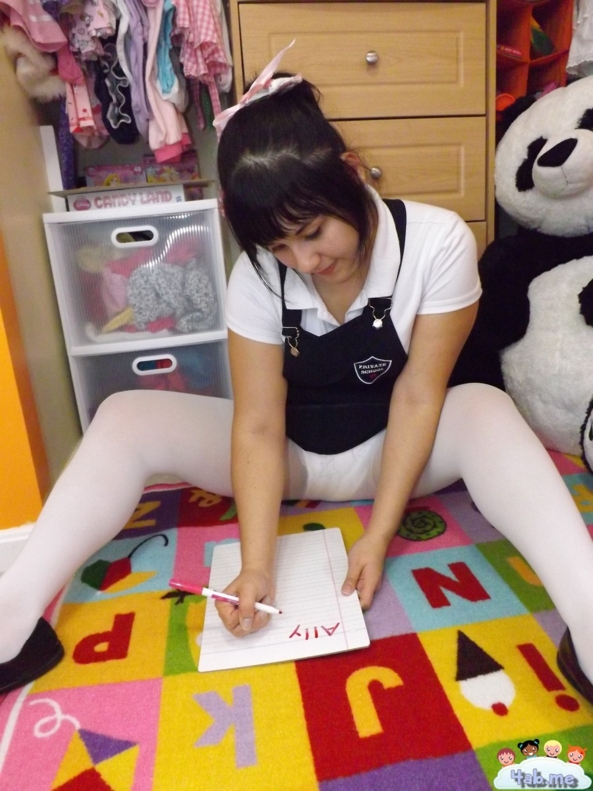 You can click the image to see the full size
   'Hi everyone, my name is Ally and I am a twenty year old college drop out and criminal. Yeah see my girlfriends and I got busted for dope and I got a DUI on top of that. My Mom......Mommy now I guess, is a big shot romance author and she has bags of money and happens to be good friends with the judge's wife. long story short he gave me a choice, prison or be returned to my mother's custody for an indefinite time period. He said if I disobeyed her even once she could send me to prison for five years! Ok I said, heck who wouldn't right?"
   "Well once Mom got me home she told me that I was her one year old baby effective immediately. I laughed of course cause I thought she was kidding, until I saw my room. She had turfed out all my old stuff and replaced it with baby girl's furniture clothes and toys all suitable for a one year old baby girl. Mom said she is going to reboot me and raise me properly this time. Of course I pitched a fit, but mom stood her ground and told me point blank diapers or prison Ally.......Choose! Well as you can see I choose and so I live as a baby, Mom......Mommy is very good to me and fusses over me a lot, but she won't let me talk to my friends or do big girl stuff. I guess I brought this on myself, I just wish I knew how long this is going to last...........