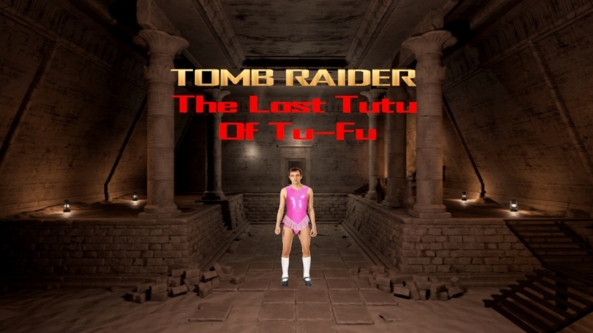 You can click the image to see the full size

This is my second old Idea remade, from an old post that I had made here at sissykiss. The shoes on the previously made Sissy Version of Lara Croft, were a bit too big and I had to draw the skirt. I also originally wanted a tomb scene, that I could not find before, but I got lucky with my second attempt of searching for an image of a tomb.

UPDATE:

I was not really happy with the drawn skirt, I wanted it to be more natural looking, at the time of making that old Sissy Tomb Raider Image, I did not have an image of a skirted leotard more best suited for what I originally wanted.

Many years later and I finally find a skirted leotard that would fit in with what I wanted to do and so this remake was made. Also I would like to be able to offer, if there is any interest out there, my services for image alterations for captions. Send me a PM letting me know what you would like to see and I will let you know if that can be done, please bear in mind the technique that I use is by no means easy and it is quite time consuming to do.

Some things I am not going to be able to do, but not without trying first. I shall always do my best to try and do an image alteration. One but most important rule, I can only change images of guys wearing nothing but briefs or speedos. If they are wearing foot wear, I can get around that, so that won't be a problem.

I can use images of my own that I already have of male models, but you can send to me in a PM an image of your own choosing and I will alter that image to what you want that guy to be seen wearing. If you choose an image of a male model that you like, then that must be an image/s of a male model/s only. That's a second rule.