Hi, all!

I thought maybe you might want to know that Carole Jean just posted my latest installment of Lipstick Discipline. You find it in her updates page at:
www.petticoatpunishmentart.com

Just so you know, I was looking through my Lipstick Discipline files in preparation for the final installment and was kind of shaken by how much stuff I've created in telling Greg's story.

So far I've got:
- 44 chapters
- nearly 400 pages of text
- 95 illustrations

This most recent installment has 100 pages of story and 32 illustrations. Even I was surprised when I started counting the numbers.

The final installment currently has more than forty pages. I've got five illustrations done. It is nowhere near completion, however, so don't get too excited. I expect it to have nearly one hundred pages and at least twenty illustrations.

The good news is that I'm excited and working on it during all of my free time, despite another doggone sinus infection. (Daphne's health has been a huge hindrance, I'm sad to say ...)

As to what happens after Lipstick Discipline, I also have plans to revive the Petticoat Detective series with a whole new cast of characters. That project is on hold until I finish my current projects, of course.

Meanwhile, I want to thank everyone again for their patience and their attention. Lipstick Discipline has hit a nerve with many readers (yes, it's a mystery to me considering my pedestrian art skills) and it is nice to read all of the complimentary email.

Carole Jean, by the way, is the best!!! Her generosity and hard work is so awesome. Just wait until you see the layout of this latest installment. I am so lucky to have her post my silly stories and drawings. Please support her and give your thanks!

Here's an image from the latest adventure (I hope!)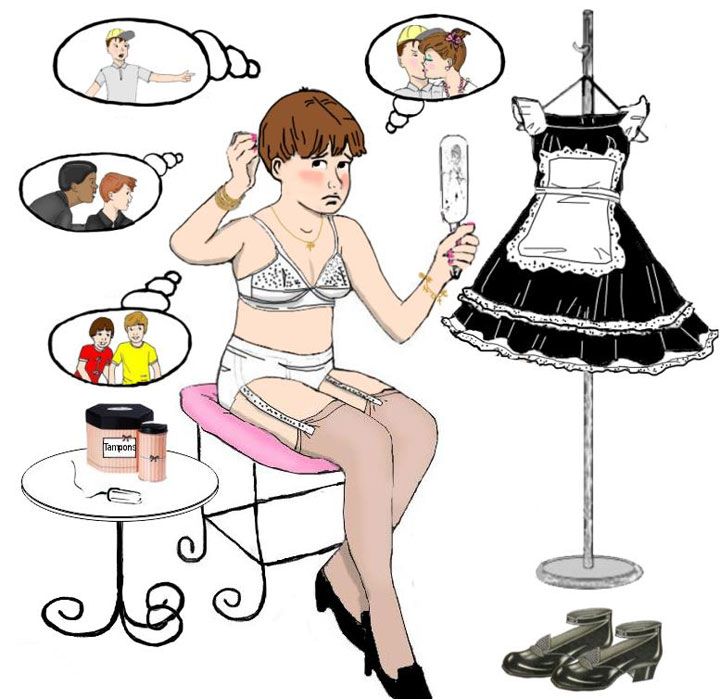 Enjoy!!!