Okay, I figure I may as well put up some of my sketchbookery on here. Hope everyone likes it.

First up is... me. o_o()

Yep, this is what I tend to view myself as (I wish I looked this good). The cat there is my furbrain, Mew. I got him when I was thirteen and pokemon had just gotten really popular. >.>()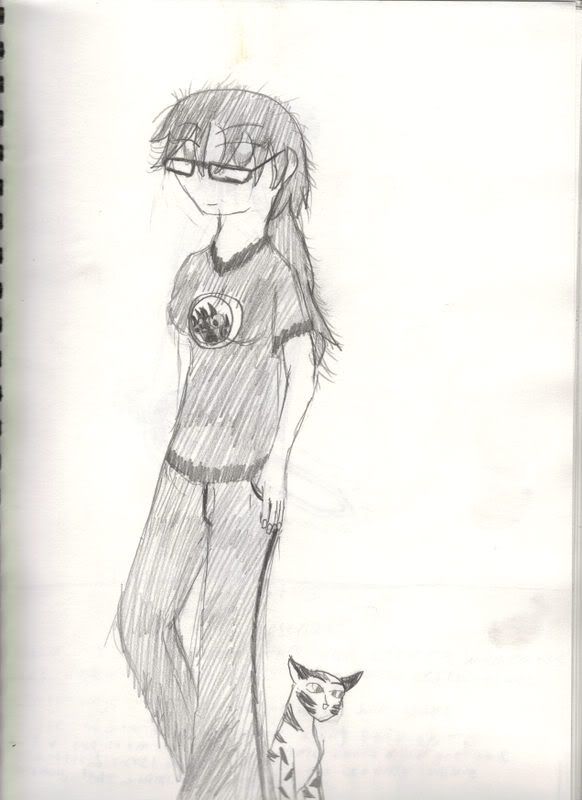 The picture on my teeshirt is the symbol for the Druid Class in World of Warcraft. I <3 my drood.

Because I'm just too happy with how it came out to not put this up, here's a sketch of my girlfriend. The plushie she's holding is Mion from the anime/manga/game series "When the Cicada Cry" (I forget the Japanese name. Higurashi something something).




The symbol on her shirt is for the Mage Class in World of Warcraft. She's a damn good frost mage. o_o()

Some of you guys might recognize Whisper here, seeing as how I met her on Sissy Kiss. =O I based the design off her avatar.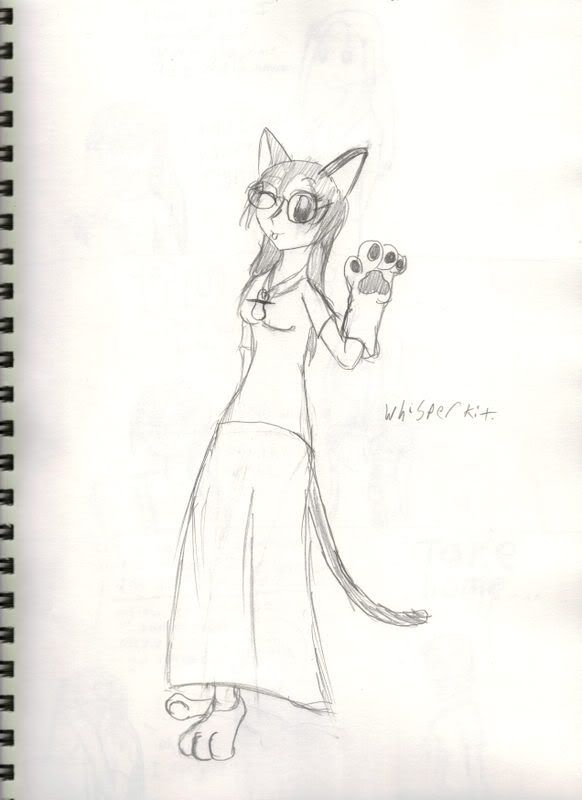 And if you're wondering why her hips are so wide... Well, what kind of forum is this? =3

Lastly, back when I was still in high school I wrote a sort of sci-fi/fantasy novel over six months because I had nothing better to do.

These are the main characters from it.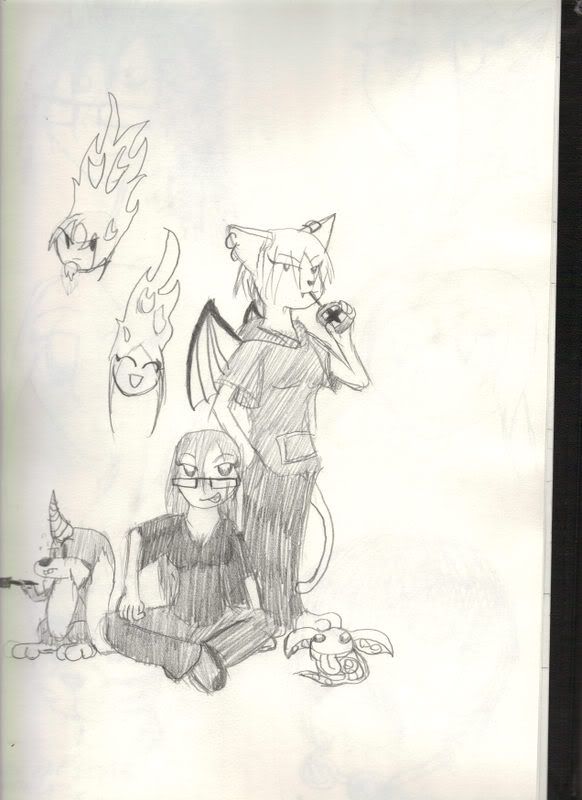 The characters are as follows.

Stephanie (S-chan): The girl sitting in the front. She's the main hero/heroine of the story. She started out as a boy but when he tried one of Unilop's (see below) newest inventions it screwed up his hormones so badly that his physical sex literally turned inside out and he became a girl. Unilop never did find a remedy... >.>

Sabre Kinolas: The catgirl on the right. She's actually a vampiric creature called a Koaso who's been alive since the British Colonization of America. Being a koaso she isn't a real vampire, but she does share some of their strengths (ages very slowly, much stronger and faster than normal creatures) and has few of their weaknesses (sunlight does nothing to her, crosses are pretty much worthless), but she still needs to feed on blood and isn't really immortal. Also, while her body is almost completely numb to pain, she can't feel much of any sensations, including good ones.

She kind of acts as Stephanie's guardian after Stephanie talked her into getting a job as a dominatrix to get food instead of drinking her dry when they met (this was before Stephanie had become a girl).

Unilop: Rabbit-ish creature in the lower left. Unilop is a strange creature. Apparently unique, neither male or female (he claims they reproduce asexually), very intelligent, and apparently immune to almost all toxins and poisons... Unfortunately he's decided to use his immunity in the worst way possible and is a master chemist when it comes to drugs. Unilop is only immune to the negative side effects but can get high as easily as any college student on spring break. When he got ahold of some synthetic estrogen tablets he decided to mess with them, but they had no effect on him no matter how much he strengthened them... then Stephanie tried one and well... there's the story! =D

Joe and Laura: The two floating balls of stuff with faces. Joe is the one with the goatee, Laura is the other one.

These are souls. Not ghosts, but the souls of Stephanie's older brother and sister who miscarried and were never actually born. Joe is agressive and impatient with most everything, Laura tends to be laidback and carefree. They do have the ability to swap out bodies with Stephanie for a time in which Stephanie winds up in this form.

Joe in a body is basically tall and burly, with lots of muscle and red hair.

Laura is small and slender, bouncy as well, with dark hair.

Biggi: The weird... thing... in the lower right.

Biggi is an infant tentacle monster. During WW2 he was invented in a secret US lab to be used in the possibility of an invasion by Japan, however he was usless since he was only interested in females (in WW2 a woman in the military was almost unheard of) so they left him in the abandoned lab until a hobo found several large black eggs and swiped them. These eggs were Biggi and several of the other creatures.

The bum sold them on the street and one happened to be bought by a curious young (and still male) Stephanie, who now keeps Biggi as a pet. Sabre tends to borrow the creature a lot seeing as how even her semi-undead body can still feel it when a tentacle monster goes berserk in her bedroom. 8D

In his normal state he looks like a snake like creature about as thick as someone's forearm with a roundish head that has a huge tongue and two large black eyes. His body is actually one big tentacle and he also has a floppy pair of them hanging off his head like dog ears, which mirror his personality in this state. He's essentially like an overly excitable puppy.

Biggi only looks small when he's not enticed however. When an appropriate female comes near he swells to a monstrous size and sprouts millions of additional tentacles to... well... you can figure out this part. >.>()

... I thought him up at three am after an entire twelve pack of coke and no sleep. >.>() Thats why he's like this.

Anyway, thats all of 'em. Going to bed now. >.>()